Complete Story

10/26/2018
CSCA - Deanna Sellnow Named as 2nd Editor of the Journal of Communication Pedagogy
Dear CSCA members: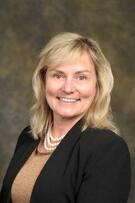 On behalf of the CSCA executive team, it is my pleasure to announce the selection of Deanna Sellnow as the second editor of the Journal of Communication Pedagogy. Her editorial duties will begin in January 2019; she will oversee publication of JCP in 2020, 2021, and 2022. Look for a call from her very soon.

A life member of CSCA, Sellnow, a professor and administrator at the University of Central Florida, is well known amongst her CSCA colleagues. She served as CSCA president in 2006-07 and, in 2018, was inducted into the Hall of Fame. She is well practiced as an editor, successfully overseeing three journals in the past, including Communication Teacher, Basic Communication Course Annual, and the North Dakota Journal of Speech and Theatre.

Sellnow's research centers on strategic instructional risk and organizational communication, as well as rhetoric and persuasion in mediated popular culture texts. Funders of her research include the United States Geological Survey, the United States Department of Agriculture, the Department of Homeland Security, and the Centers for Disease Control and Prevention. Her work is published in several books and in national and international journals. She has presented to audiences in more than 20 countries.

Sellnow received her PhD from the University of North Dakota and previously worked at the University of Kentucky and North Dakota State University. She was a visiting professor at the Chinese University of Hong Kong.
Congratulations, Deanna! We know that the journal is in good hands. I'd also like to express the executive team's appreciation to the editor search committee, chaired by Kathy Denker, and to Scott Myers, who continues to do a fantastic job as JCP's founding editor.
Sincerely,
Amy Aldridge Sanford
President, Central States Communication Association
Professor of Communication, Texas A&M University-Corpus Christi